Our sites
A constantly improved and updated manufacturing plant, located in France.
The manufacturing quality of our products is our top priority every day. It is guaranteed by qualified, committed staff as well as a state of the art manufacturing plant supported by an ambitious investment policy, meeting the stringent quality requirements of the pharmaceutical and cosmetics industries.
Since 2010, we have invested over 100 million euros into our industrial sites.
Our raw materials are scrupulously selected and inspected at each stage. Our rigorous production procedures comply with Good Manufacturing Practices (GMP).

This means that we can guarantee the traceability of all our products, from design through to use, in line with our values.
Our 6 production sites are located in Normandy and Brittany. They form an efficient, responsive structure to support the Group's brands. They provide various subcontracting options for our partners' pharmaceutical and cosmetics products.
Key figures
locations based in France
subsidiaries and representative offices
invested in the industrial park in 10 years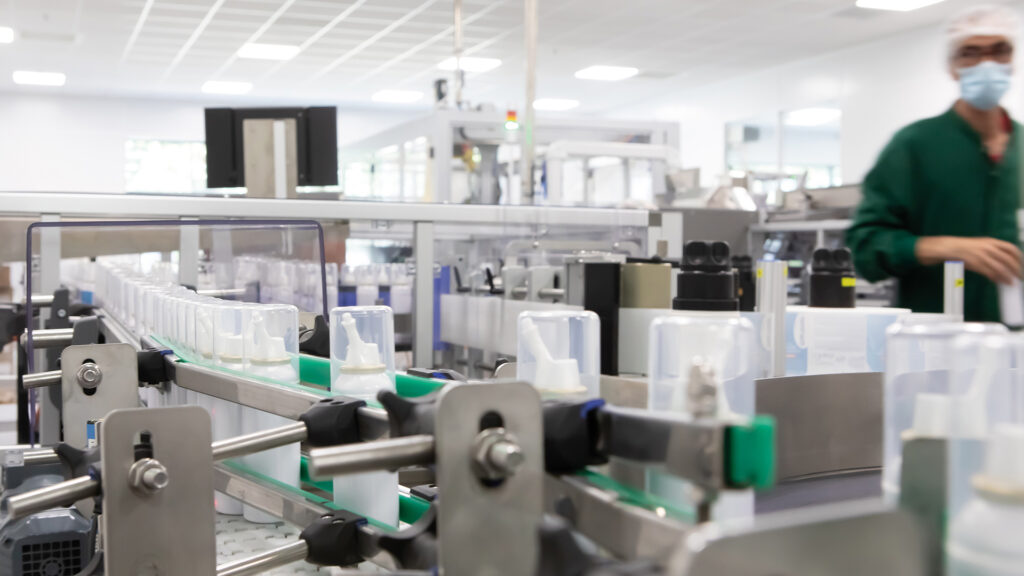 Our certifications

The Gilbert group adheres to GOOD MANUFACTURING PRACTICES (GMP), and its logistics process complies with GOOD DISTRIBUTION PRACTICES which apply to the pharmaceutical industry (GGDP).

Our cosmetics sites are ECOCERT CERTIFIED for the production, storage and distribution of ORGANIC products.
Our cosmetics factories are CERTIFIED by ECOVADIS who assess their environmental, social and ethical performance.
The quality management system implemented by Laboratoires Gilbert on their pharmaceutical sites is CERTIFIED by GMED in accordance with ISO 13485 STANDARD.
A Normandy-based Group operating internationally
International sales currently account for 30% of the Group's turnover, which is constantly on the look out for new foreign partners and distributors.
Gilbert has a team of specialists for each geographical area to develop and adapt the offer to suit market needs, in accordance with each country's culture, legislation and distribution circuit.
We strive to create solid partnerships with specialist companies and market leaders. This means on a local as well as multinational level.
Currently operating in 86 countries across the world, our ambition is to strengthen our international position through a network of committed subsidiaries. This strategy means we can reach foreign markets on the ground to gain a better understanding of their needs and offer personalised support:
Our subsidiaries
Belgium
Located in Lessines, this Belgian subsidiary has marketed our products in pharmacies, drugstores and specialist shops in Belgium and Luxembourg for almost 20 years.
Laboratoires Gilbert Benelux
Zoning Ouest 16,
7860 LESSINES, BELGIUM
China
Operating in Hong Kong for over 20 years, this subsidiary develops the Group's key brands such as Algotherm, Physiolac and Le Comptoir du Bain in the Asia Pacific area.
Batteur Group Hong Kong
Unit D, 22/F World Trust Tower 50, Stanley Street, Central
HONG KONG, CHINA
India
Opened in 2018 and located in New Delhi, the aim of this joint venture is to launch the Algotherm brand on the luxury cosmetics market in India and set up a beautician training centre using the brand's products in beauty salons.
Gilbert Jain Laboratory Private Limited
60/11 old Rajinder Nagar
DELHI, CENTRAL DELHI – 110060
INDIA
Italy
This Group subsidiary has been distributing our products in Italy since 2003 and also carries out subcontracting for other brands, from formulation to manufacturing.
Located in Parma, it specialises in the pharmacy, health and beauty, herbal medicine, cosmetics and perfume markets in Italy.
Batteur Group Italy
Via Mansfield
43122 PARMA, ITALY
Morocco
Opened in 2016, this subsidiary boasts its own highly responsive and efficient logistics platform meaning it can supply all the towns and cities in Morocco. It also provides full support for its pharmacist and drugstore partners in expanding their business.
Laboratoires Gilbert Morocco
22 rue Annajaf, Al Manar building
Derb Ghalef district – Maarif
CASABLANCA, MOROCCO
administratives locations
Paris