Bactidose
Hand washing: one of the 5 key protective measures
80% of bacteria is spread via the hands, making them one of the main ways that viruses and other germs are transmitted .
Our hands come into contact with bacteria, fungus and viruses through the things we touch every day, such as public transport handrails, handles, computer keyboards, etc. Unfortunately, it's not always possible to wash our hands if there is no soap or water readily available.
But washing our hands regularly isone of the most important protective measures to help prevent infections and reduce the spread of germs that can cause infectious diseases such as flu, gastroenteritisand  COVID-19 amongst others.
Using a hand sanitiser gel or solution is an alternative to washing the hands when out and about.
Hand sanitiser gels
 Bactidose hand sanitiser gel   disinfects the hands quickly, with no need to rinse.
Kills bacteria(1), fungus(1), and viruses(2), and is effective against the virus that causes gastroenteritis,
Eliminates 99.9% of bacteria and viruses,
Does not dry out the hands, contains moisturising agents.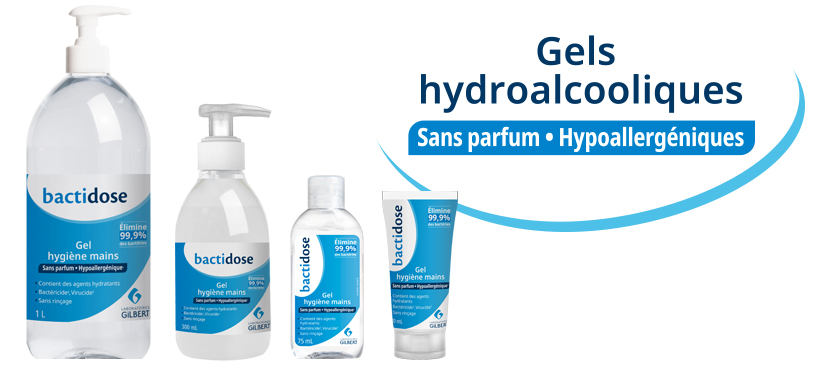 (1)EN 1040 / EN 1275: 50% after 30 seconds of contact. EN 13727 / EN 13624: 97% after 30 seconds of contact.
(2)Meets the EN14476 reduction criteria in 30 seconds for HIV-1, TGEV, HSV-1 and BVDV viruses.
Hand sanitiser gels are available in a fragrance-free format, in a pump bottle (1 litre, 300ml) and tube bottle (75ml, 30ml). Also available in cherry, eucalyptus, tiare flower, aloe vera, apple/pear fragrances (75ml and 30ml formats) and eucalyptus, tiare flower and cherry fragrances (30ml format).
The 100% plant-based and alcohol-free sanitiser
Bactidose Green is a hand sanitising foam that disinfects the hands quickly for the whole family, with no need to rinse. Its moisturising, alcohol-free and fragrance-free formula cares for the most sensitive skin, even that of babies and children.
Kills bacteria(3), fungus(3), and viruses(4),
Eliminates 99.9% of bacteria and viruses,
Alcohol-free, 100% plant-basedactive ingredient
Hypoallergenic. Dermatologically and paediatrically tested.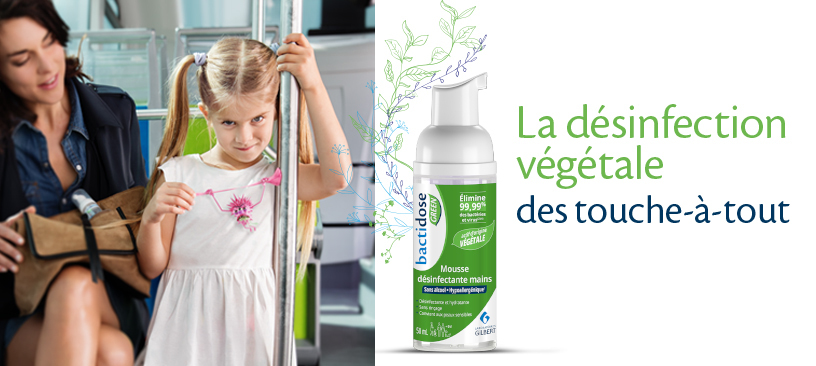 (3)EN 1500 / EN 1276 / EN 13727 / EN 1650 / EN 13624 after 30 seconds of contact. (4)Works on enveloped viruses in 30 seconds.