Stabilized oleo-calcareous liniment
So that he only blushes with pleasure
At birth, the baby's skin barrier is thinner than that of adults, which makes it very fragile and very permeable.
With LINIDERM Oleo-limestone Liniment, Laboratoires Gilbert support you on a daily basis to effectively clean and protect baby's seat. Formulated with lime water and virgin olive oil (99.8% ingredients of natural origin), this leave-in diaper treatment forms a protective film that strengthens the skin barrier and preserves the natural pH of the skin. skin, thus preventing redness.
LINIDERM Oleo-limestone liniment from Laboratoires GILBERT is a cleansing and protective care for the change, based on the formula of the French Pharmacopoeia. Its hypoallergenic formula respects the fragile skin of infants.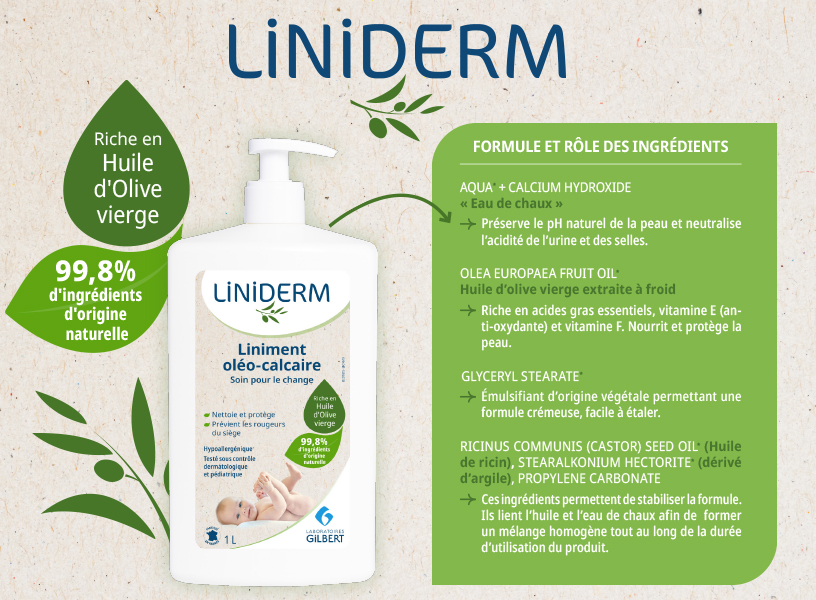 The + products
Proven effectiveness* **
Prevents and calms the first signs of redness
Preserves the natural pH of the skin
Forms a protective film and protects against friction and moisture in the diaper
Strengthens the skin barrier
Hypoallergenic ***
Product made in France
LINIDERM stabilized oleo-calcareous liniment from Laboratoires Gilbert is available in different formats: 1L with pump, 480ml with and without pump, 250ml and 100ml without pump.