Luc et Léa
Fun and stylish baby care products
The Luc et Léa adventure began in 1986, when the laboratory acquired the "LUC" brand. At the time, the "LUC" brand only marketed one product: a medicine dispenser dummy with a detachable hollow teat. An ingenious product to make it easier for babies to take medication.
1994 marked a turning point. The offer expanded into various different accessories, and "LUC" became "Le p'tit monde de Luc".

The " Luc et Léa " brand we know today did not appear until 2001. The brand offered a wide range of baby care accessories.
Since then, it has been constantly developing and expanding its offer. It was even the first brand to offer "message" dummies, launching its famous range of "J'aime" (I love) dummies in 2006. The " I love my mummy " and " I love my daddy " dummies became best-sellers within just a few months, making the brand a household name.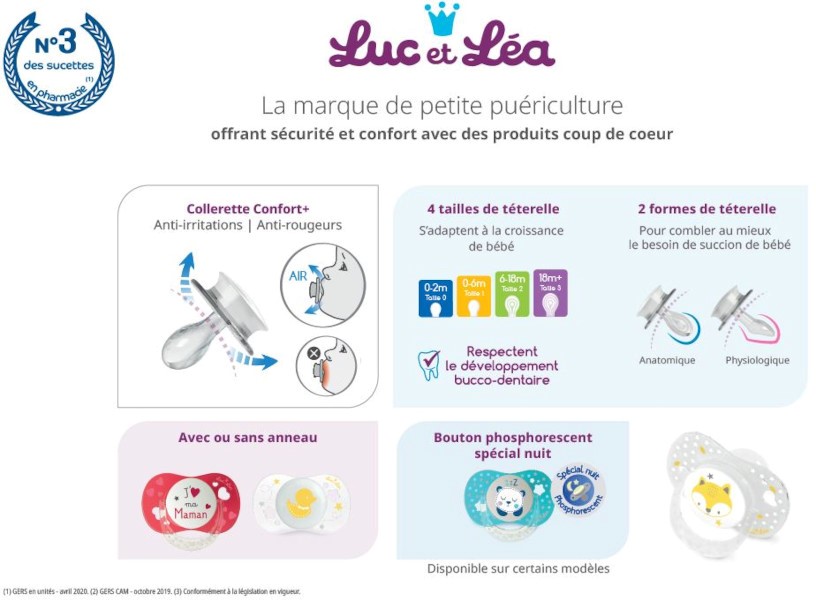 In 2013, Luc et Léa extended its offer to include a range of high quality baby bottles with unusual, sweet designs.
Boasting excellent quality and highly creative products, Luc et Léa offers a technically advanced and unusual range whilst enjoying unique positioning on the market.
Now more than ever, 2020 is all about innovation! Luc et Léa is launching its first plant-based plastic dummy made from sugar cane waste, a 100% renewable resource. A range of anatomical dummies for 0-6 months, 6-18 months and 18+ months that cares for babies' teeth and mouths as they develop, and are suitable for newborn babies' mouths.  Environmentally-friendly packaging: the cardboard comes from sustainably managed forests and the casing is made from recycled plastic with Imprim'vert certified ink.
This innovation was made possible through investment from our Normandy-based teams and our partners. This new concept is already popular with 95% of mums questioned*. Luc et Léa continues to develop innovative products that care for the environment, in line with the values demonstrated by our customers and laboratory.