Physiodose
Physiological serum or physiological solution is an essential part of the family medicine kit. This physiological liquid is composed of purified water and 0.9% sodium chloride (salt). Thanks to its isotonic composition, it is tolerated by the cells of the human body.
Multi-purpose, physiological saline in pods is used daily for eye care, nose care and ear care for babies. It can also be used in adults, for the same purposes and for washing wounds.
Clean baby's nose with physiological serum
Nasal hygiene is essential in toddlers to reduce nasal congestion.
The lining of the baby's nasal cavity is fragile and sensitive to bacteria, viruses, cold and pollution. It reacts to external attacks by producing abundant phlegm that must be evacuated regularly in order to avoid infection and contamination of all the respiratory tracts.
Physiodose physiological serum accompanies parents on a daily basis for baby's first aid. To wash your baby's nose with physiological saline, here are some tips:
Tilt your head to the side.
Gently insert the tip into the upper nostril and press lightly on the single dose.
Repeat the operation for the other nostril.
Straighten your head to let the phlegm flow out, then wipe off the excess.
Do not blow your nose violently during the 10 minutes following administration.
In infants, instill the product with minimum pressure to avoid any risk of contamination of the middle ear.
Made from purified water and sodium chloride, physiological serum is sterile and preservative-free. It is applied up to 6 times a day, depending on baby's needs.
If your baby's nose is very congested, you can use the Physiodose baby nose blower: it allows you to blow your baby's nose effectively. The shape and soft texture of the nosepiece ensure maximum comfort for your baby. The baby nose filter is equipped with a tab to be changed easily and without getting your hands dirty. The Physiodose filtration technology ensures efficient blowing thanks to its high suction capacity. The mucus is aspirated without forcing and remains stored in the reservoir without possible return to your baby's nose.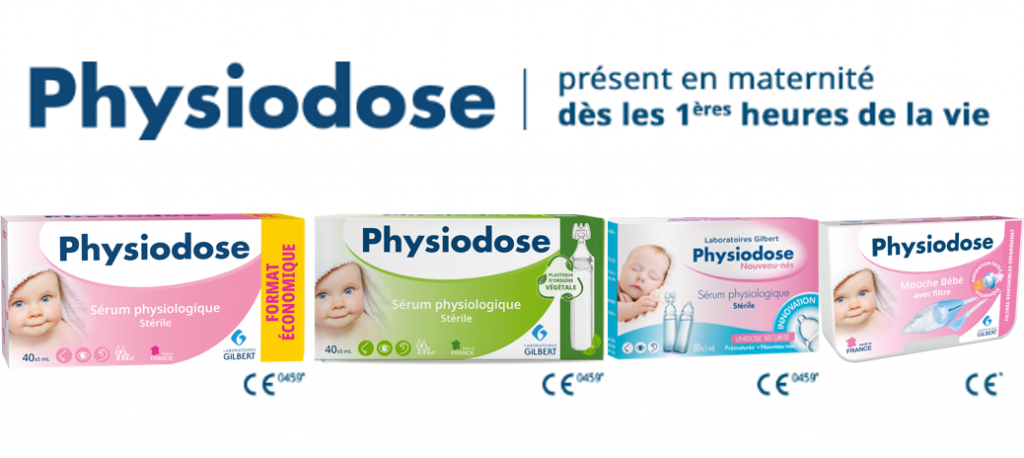 Physiological serum to clean baby's eyes and ears
Physiodose physiological serum can be used daily for eyeand earhygiene.
For washing baby's eyes:
place a few drops of solution in each eye, taking care not to bring the single dose into contact with the surface of the eye,
wipe off the excess with a compress,
repeat the operation for the other eye with a new compress.
In case of treatment with eye drops, wait 15 minutes before instillation.
For washing baby's ears:
rinse the external auditory canal with physiological saline,
use a dose of physiological saline for both ears,
wipe off excess liquid with a compress.
Physiodose Végétal: physiological serum 100% of vegetable origin and 100% recyclable
Concerned about your health and that of future generations, Laboratoires Gilbert are committed to an eco-responsible approach and have created a single-dose Physiodose entirely designed in plastic of plant origin from renewable resources. This new generation Physiodose Végétal single dose is made from ethanol derived from sugar cane, thus limiting the use of fossil materials.
The single dose of Physiodose plastic saline of vegetable origin is of pharmaceutical quality and without any additives. It has the same protection and sterile preservation properties as conventional single-doses.
Physiodose Végétal physiological serum is recommended for infants, children and adults for nasal and ocular hygiene, for ear rinsing and for washing wounds.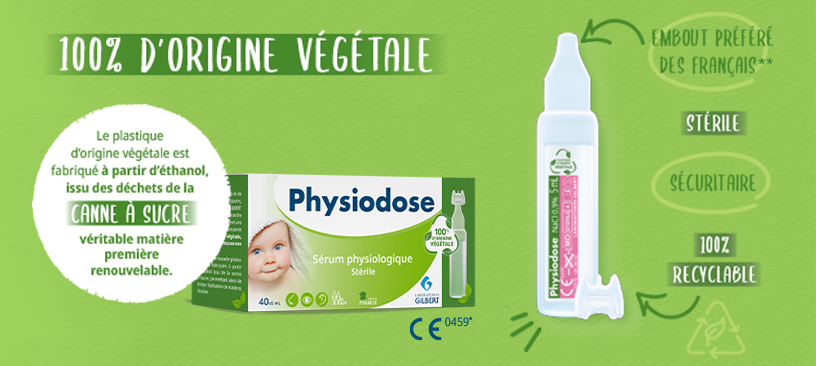 Physiological saline for washing wounds
Composed of purified water and sodium chloride, physiological saline gently cleans and disinfects. It can be used for washing wounds by first rinsing the wound and using a full dose. It is also recommended not to put the single dose in contact with the wound. Excess saline should only be wiped off healthy skin.
Physiodose,the favorite physiological serum of the French
Physiodose from Laboratoires Gilbert is the favorite physiological serumof the French**.
Experts in the world of babies and ENT hygiene** from birth, Laboratoires Gilbertsupport parents on a daily basis by offering products made in France and Europe* in strict compliance with pharmaceutical standards.
Gilbert Laboratories offer solutions to help parents relieve their babies during colds, in particular with Physiodose physiological serum, No. 1** in pharmacy sales.